Applications: Web Browsing
Windows Default: Internet Explorer 7
What I use: Firefox 3
Ubuntu Default: Firefox 3
Much to the chagrin of Microsoft, the web browser is turning in to a miniature OS of its own, and in the case of anything that's not Internet Explorer, it's a miniature OS that has no allegiance to a real operating system. It's the primary way to retrieve most information from the internet, applications can be created through AJAX and Flash, video can be watched (see: Hulu). A good cross-platform web browser removes a great deal of the need to use any specific OS, and this is something that works in Ubuntu's favor.
Ubuntu ships with Firefox 3, Internet Explorer's loyal opposition and currently the #2 browser on the market. So long as a site isn't built for IE6 Firefox has great compatibility, good speed, and an army of extensions to add features to it. Since many of you already use it, there's not a lot to say here: it's a very solid browser, and something I find to be superior to Internet Explorer.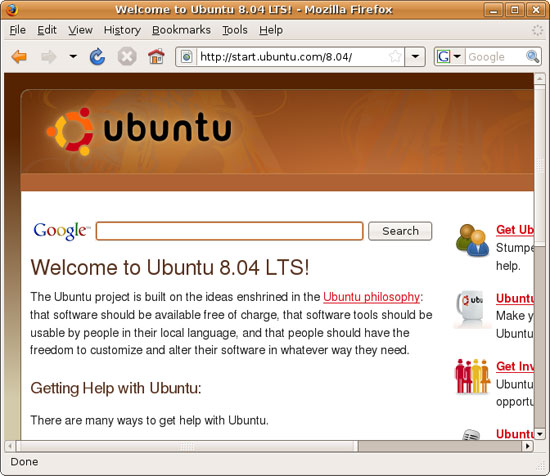 As I already use Firefox under Windows, the transition here was virtually non-existent. Ubuntu doesn't have any direct Windows to Ubuntu transition tools, but after moving my Firefox profile from Windows to Ubuntu and reconfiguring a few location-sensitive settings, I was up and going. Internet Explorer users are going to have more of a transition obviously, but it's not much. All of the major browsers' core behaviors are the same, which makes it easy to switch among them with little fuss.
At the risk of marginalizing the rest of Ubuntu, I consider Firefox to be one of the core components that makes Ubuntu a success story. Because so much computer use these days is inside a browser, it has become a lynchpin for a good OS. If your browser is bad, then it's probably hurting the usability of your OS if it means that many users cannot do something they regularly do on another browser. One only needs to look at the early versions of Mac OS X to get a good picture of this, as it shipped with the only-bearable Internet Explorer 5.
There are however a few caveats that I'd like to hit on. Something that continues to throw me for a loop is that while it's the same Firefox I use under Windows and Mac OS X, it doesn't necessarily look the same. The rendering engine is the same, but OS differences start to play out here. Mac OS X, Windows, and Ubuntu all render text slightly differently, and in the case of Ubuntu come with a significantly different font set. Because Firefox is at the mercy of the OS for fonts, what you get are small but noticeable differences in how the same page looks.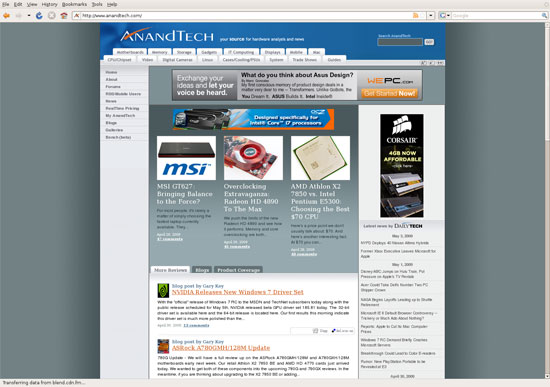 Firefox with default fonts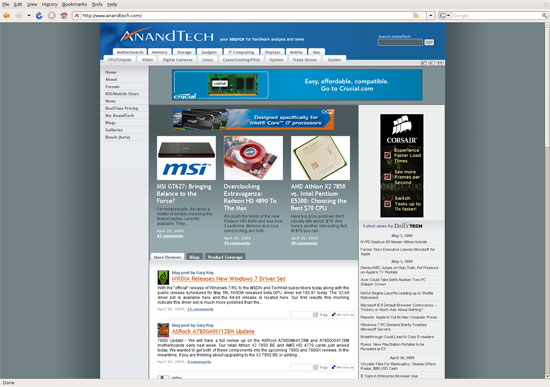 Firefox with MS Core fonts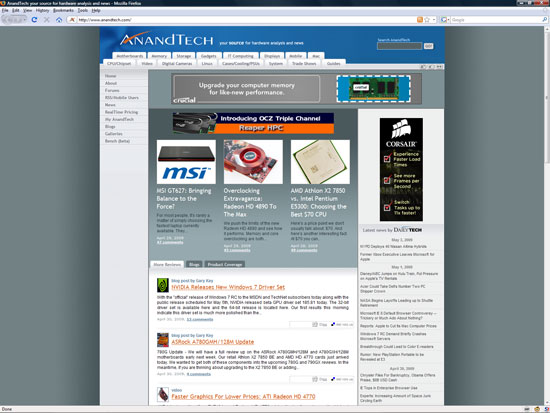 Firefox under Windows
Above we have AnandTech rendered in Firefox 3 on Windows, and Ubuntu. On Windows Firefox uses Times New Roman and Ariel for its default fonts, but these fonts do not exist on Ubuntu; rather Ubuntu uses what's called "serif" and "sans-serif". This along with how the two OSs differ in font anti-aliasing results in the different look of Firefox under Ubuntu. Having used Windows for a number of years, I have never gotten past the idea of Ubuntu looking "wrong" even though the right look is entirely subjective.
Ultimately I ended up adding the missing fonts by installing the msttcorefonts package, which contains Times New Roman, Ariel, and the other "big name" standard fonts. With those installed and Firefox configured to use them, text looks much closer, although not quite the same. It's a shame that Ubuntu can't include these fonts by default.
The second caveat is one of performance. When using Javascript-heavy sites in particular, Firefox on Ubuntu seems just a bit slower than under Windows. I had never been able to figure out why until I saw this Slashdot article. Firefox for Linux is not compiled with profile guided optimization, a method of improving the performance of binaries by looking at how they're used. While Ubuntu compiles their own releases of Firefox, they do the same thing. As a result, there's a speed difference in Firefox – it's the same code, but the Windows version is compiled in such a way that it's faster. As I wrote at the start of this article, I'm not concerned with the performance of Ubuntu or its applications for the most part, and this falls under that notion. Firefox is slower, but not to the point that I care. It's interesting enough that it bears mentioning, however.
Just to give you an idea of what the speed difference is, here's a breakout of one of our Firefox benchmarks from the benchmarking section later in this article: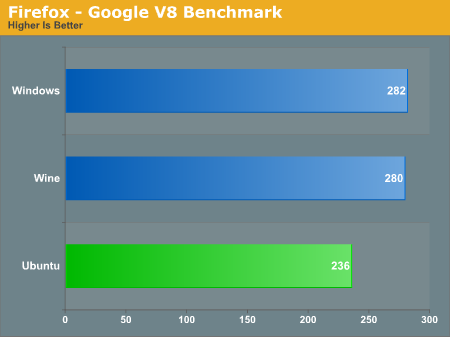 As you can see, in this Javascript-heavy test Firefox on Ubuntu is upwards of 17% slower than it is under Windows. As this performance gap manifests itself largely under Javascript-heavy situations; regular browsing doesn't show nearly the difference. Flash is also slower, but this has nothing to do with Firefox and more to do with Flash's mediocre performance under any OS that isn't Windows.
The last caveat is one of how Ubuntu's distribution model becomes strained when it comes to Firefox. Ubuntu Hardy shipped nearly 2 months before Firefox 3 did. But because Ubuntu is meant to be a stable platform they still needed to package Firefox 3 with the OS, so Firefox 3 Beta 5 was included. If we had done this article a month after Hardy launched as intended, I'd have few nice things to say. Firefox 3 Beta 5 combined with Adobe Flash 9 was buggy, unstable junk. Canonical made the right decision as the final version of Firefox 3 turned out well, but it highlights the pitfalls of including 3rd party software with the OS.
The flip side of this caveat is that Firefox 3.5.x has superseded 3.0.x as the newest Firefox branch, which means that only 3.0.x versions are being pushed out to Hardy. This means if you want to take advantage of any of Firefox's newest features such as the new javascript engine, you'll need to install a 3.5.x build separately, ideally through a PPA package so that it cleanly replaces the default version of Firefox.
But even with those caveats, none of them are serious issues. Firefox 3 is still a fantastic browser and there's nothing else I'd rather have on Ubuntu.
Final Verdict: Meets My Needs
Applications: Communication - Email & Instant Messaging
Windows Default: Windows Mail/Outlook
What I Use: Outlook
Ubuntu Default: Evolution
Separate communication suites are a bit of a dying breed these days, largely due to the aforementioned rise of the web browser. Thanks to services like Gmail, web based email has taken a massive dent out of the need to use an email client, and new services are popping up that are starting to do the same for instant messaging. But they're not dead yet, and more importantly I'm too old fashioned to give up my dedicated email and instant messaging clients, so this is a matter I consider important.
The default email client on Ubuntu is Evolution, a clone of Outlook. As Outlook is my default email client under Windows anyhow, this worked out quite well for me. Because Evolution is an Outlook clone, it features not just email, but contact lists and calendaring too, supplanting the need for separate applications for those under Ubuntu.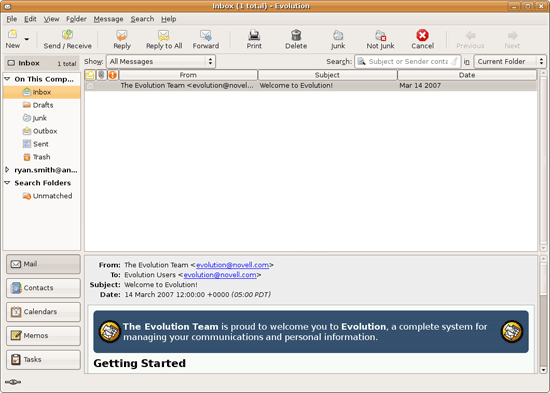 At the same time, because Evolution is an Ubuntu clone, there's not a lot I can say about it – it's a clone, there's not much unique to it. What it is however is a good clone when it comes to my needs. Credit is due where deserved in cloning the monster that is Outlook, because Evolution did email, contacts, and calendaring for me just as well as Outlook does.
The only notable issue I had with Evolution is that it does not have a way to import Outlook PST files. It's possible to do it, but it involves using Mozilla's Thunderbird email client as an import/export mechanism. To be clear I'm not faulting Evolution here since PST is a closed Microsoft format.
Users coming from Windows Mail will be a bit less at home, but at the same time Evolution is likely an improvement for them for all the same reasons that Outlook is a better client than (and the de-facto Windows email client in place of) Windows Mail. Perhaps a more direct benefit is that since Evolution is pre-installed with the base OS installation, you don't need to go hunt down a real email application after the OS installation. Never underestimate the annoyance of having to install more software.
If this description seems short, it's not for the lack of effort or a dislike of Evolution. In fact I'm plenty happy with it, but as I use it it's just Outlook with a different GUI. So far as I'm concerned this is a good - if unexciting – thing when coming from Windows and Microsoft Office.
Final Verdict: Meets My Needs
Windows Default: None/Windows Live Messenger
What I use: Trillian
Ubuntu Default: Pidgin
Somewhere along the way to Vista, Microsoft decided to decouple some applications from the OS, MSN Messenger was one of them. As a result Vista does not come with an instant messaging client of any kind, rather it comes with a link to go download the latest version of Windows Live Messenger. Not that it would necessarily be of much use, the last time I saw any statistics for instant messaging network usage, the vast majority of North American users were on AOL's AIM network. In this case Windows may as well not have an official instant messaging client, because unless you use the MSN network (or Yahoo network) there's no practical difference.
So it's a nice change of pace when we note that Ubuntu comes with a multi-protocol instant messaging client as part of the base OS install. Pidgin (née GAIM) supports AIM, Yahoo, ICQ, MSN, and a boatload of smaller networks, thoroughly eliminating any possible problem of not being able to connect to your network of choice. Like Firefox, Pidgin is another significant multi-platform application, and is found on Windows and Mac OS X too.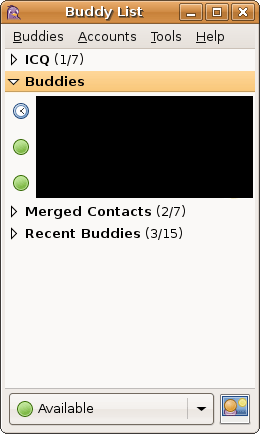 Moving on to features, Pidgin hits all of the checkboxes as far as requisite features are concerned. Buddy lists, chat logging, file transfers, emoticons, end-to-end encryption, etc are all supported. What helps to set Pidgin apart from other clients, and this one again drawing a parallel to Firefox, is its support for plugins. Plugins aren't new as far as instant messaging clients are concerned, but many clients don't support them.
Pidgin comes with 30 such plugins, ranging from tools to integrate Pidgin with Evolution, to adding support for mouse gestures. Some of these are standard features in other IM clients, so clearly not all 30 plugins are by any means unique. I'm also going to throw built-in spell-checking in this category – not new, but sorely missed from a lot of clients.
Coming from Trillian, Pidgin is effectively a drop-in replacement. The two don't have feature parity (Trillian has more features, specifically audio/visual chatting) but as far as I use either client, I don't use anything that makes the two notably different once a few plugins are installed. Much like Evolution there's undoubtedly some missing features once you get deeper that would be of concern to the hardcore users, but it's nothing that rears its head for me.
Final Verdict: Meets My Needs
Applications: Audio Organization/Playback
Windows Default: Windows Media Player
What I use: iTunes/Winamp
Ubuntu Default: Rhythmbox/Totem
There are 3 things people will never agree on in this world: Politics, the Yankees versus the Red Sox, and what multimedia player to use. It doesn't take much effort to find someone who hates any given player and has their own idea of what the best player is, so looking at the players included with an OS is somewhat academic. No matter what OS it is, a number of users are going to replace the default with something else. So for our discussion on multimedia playback, I'm going to preface this with a thought: the Ubuntu defaults aren't the only options, there are other programs out there if the defaults aren't satisfactory.
With that said, when it comes to audio organization and playback Ubuntu comes with two programs: Rhythmbox and Totem. Rhytmbox is Ubuntu's dedicated audio organization and playback suite – analogous to iTunes – while Totem is a combined audio/video player, similar to VLC or the classic versions of Windows Media Player. In spite of the fact that Rhythmbox is the dedicated audio suite, I mention both of these since Ubuntu will in fact use both. Attempting to open an audio file from the file browser will default to Totem, while Ubuntu's application menu calls Totem "Movie Player", leaving the "Music Player" distinction to Rhythmbox. As a result Ubuntu is a bit schizophrenic about its audio software – it's inconsistent throughout the OS.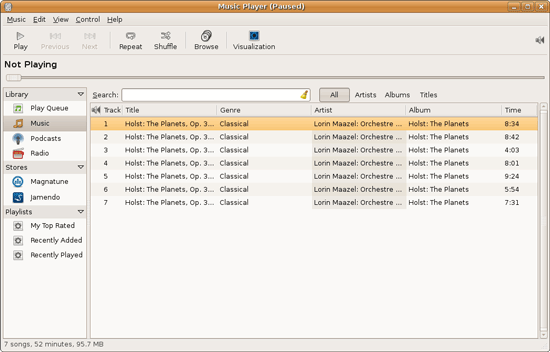 Since Totem is an audio/video player, we'll save it for our Video section and focus on Rhythmbox. As I mentioned previously, Rhythmbox is analogous to iTunes; even the manual specifically mentioned that the program was "originally inspired by Apple's iTunes." In fact there's not a lot to be said about Rhythmbox: it looks mostly like iTunes, it acts mostly like iTunes, and it does most of what iTunes does. Consider it iTunes-lite, and that's Rhythmbox in a nutshell.
As iTunes-lite, Rhythmbox holds both the benefits and the downsides to such a design. Monumental among these are the fact that Rhythmbox isn't nearly as bloated as iTunes can be. Rhythmbox gives you the basic iTunes experience while eating less than half the memory and loading in less than half the time it takes for iTunes to load. iTunes may have a lot of features, but you're paying for them somewhere. For most people, the complete iTunes feature set is overkill and they would be better served by lighter program like Rhythmbox.
The price of that lightness however is the feature set that Rhythmbox doesn't implement. Among other things it lacks its own ability to extra audio from CDs, instead relying on another Ubuntu program, Audio CD Extractor (Sound Juicer) to accomplish this. Similarly, it lacks the ability to quickly encode existing songs in to another format. Last, for purchasing music it doesn't have access to a full-featured store – the included interfaces are for Magnatune and Jamendo, which are best described as indie stores. Purchasers looking for mainstream music would be limited to Amazon's store, which has a proper web interface and may be a curse or a blessing depending on how much you like the iTunes Music Store being integrated in to iTunes.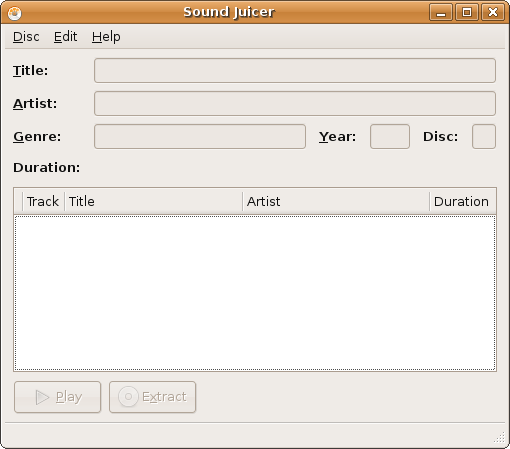 Rhythmbox does have the ability to synchronize music with portable media players, however since Apple actively blocks their iPhoneOS based devices from syncing with anything besides iTunes, Rhythmbox can't actually sync with the portable media players most people have. This meant that I was unable to sync my iPhone with Rhythmbox, and had to dual boot instead. We don't have a legacy iPod on hand, but it sounds like the latest Classic/Nano models won't work either. Users with legacy iPods would need to seek out something like GTKPod, which is designed specifically for iPod synchronization and should do the job.
Ultimately the usefulness of Rhythmbox depends on how well you know iTunes and how many of its deeper features you use. For basic music organization and playback it does just fine – you may as well be using iTunes. But power users will probably be unsatisfied. Meanwhile Windows Media Player users will find it a tossup; it still has fewer features than WMP, but WMP has always needed to take a hint or two from iTunes when it comes to layout.
Final Verdict: Satisfactory/Only Meets Some of My Needs
Applications: Video Playback
Windows Default: Windows Media Player
What I use: Media Player Classic – Home Cinema
Ubuntu Default: Totem (Used: VLC)
Moving on to video, we have Totem, Ubuntu's other media player. As we previously mentioned it's already the default for audio files opened via the file browser, and along with that it's also Ubuntu's only video player. In concept it's close to VLC or Media Player Classic, as it's a solitary program that has a single window to play whatever the currently opened file is.
The single biggest strength of Totem is that once the restricted codec pack is installed, it can play anything and everything under the sun. MP3, AAC, MKV, H.264, MPEG-4 ASP, FLAC, and more are all available. This makes both Mac OS X and Windows Vista pale in comparison – the former can play about half of that, the latter even less. Codec hell has always been a nuisance under Windows and Mac OS X, but Ubuntu gets things right and avoids it altogether. I really can't overstate this; from a fresh install it's much, much easier to play media out of the box with Totem on Ubuntu than it is any other OS. This is the experience everyone else should be shooting for.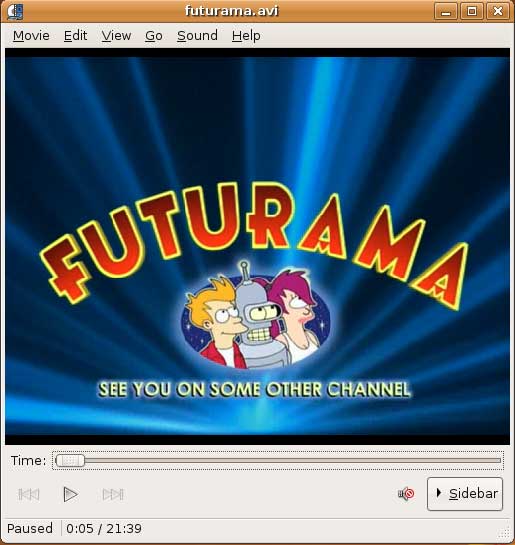 The key to Totem's ease of use stems from the fact that the restricted codec pack includes the FFmpeg project's libavcodec library of audio/video codecs. As the project seeks to offer playback support for every significant codec in existence, this gives Totem a clear advantage over Windows and Mac OS X, neither of which use libavcodec. This does mean, however, that Totem is not unique. Its playback abilities can be found in any other application that implements libavcodec, such as Media Player Classic, MPlayer, VLC, and others. As such the real magic is that Totem is the only default media player to include these abilities, rather than that it's a completely superior media player.
As it stands there are two big kinks in Totem. The first of which is that it's an extremely simple media player that lacks any kind of advanced features. It offers a single deinterlacing mode, no control over post-processing, and no audio/video filters. As such advanced users are going to find it unsatisfactory, and accordingly it's one of the only default Ubuntu programs I specifically replaced when using Ubuntu. Instead I ended up using VLC, which has the advanced features I was looking for and I was already familiar with it since it's a cross-platform media player.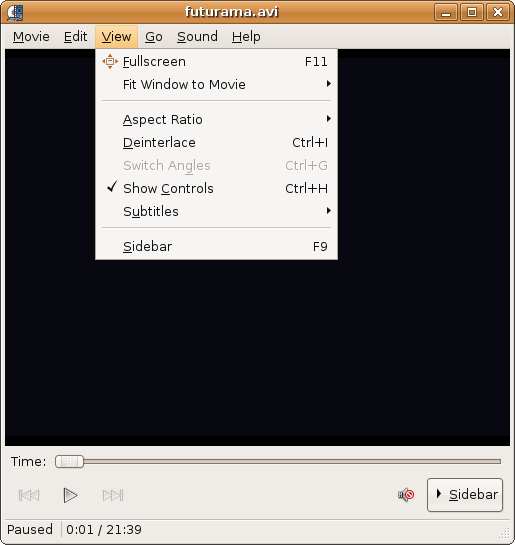 The other kink in Totem is that it's only as good as libavcodec, which in turn is only as good as the version of libavcodec that came with Hardy due to Ubuntu's software update policy. As it stands the version of libavcodec that comes with Hardy has issues playing back a small number of Windows Media Video files, something which newer versions correct.
Furthermore it suffers from libavcodec's continuing weakness: H.264 playback. Only the single-threaded H.264 decoder is considered stable, as such all libavcodec players using it will run in to problems when decoding high bitrate material. Our 30Mbps test clip won't play back correctly under Totem or VLC 1.01, for example. There is a multithreaded H.264 decoder available in libavcodec, but as it's not stable (on players that I have that include it, it crashes from time to time) it's not suitable for general distribution. All of this is compounded by the fact that there's no other H.264 decoder that can be installed on Ubuntu (e.g. CoreAVC) which means Ubuntu is limited to the best that libavcodec can do. For this reason none of the regular Ubuntu media players are well suited for material such as full quality BluRay rips.
Now we have yet to touch on hardware accelerated playback, which is something we're going to hold off on until we take a look at Ubuntu 9.04. Linux does not have a common media framework like Windows and Mac OS X have DirectShow/DXVA and QuickTime respectively. Rather the desktop environment that Ubuntu is based off of (GNOME) includes a lesser framework called GStreamer, which is closer to a basic collection of codecs and an interface to them. As such hardware accelerated playback is not as easy to do under Ubuntu as it is under Windows and Mac OS X. We'll take look at the APIs and the software for this in our look at Ubuntu 9.04.
But so long as you don't need hardware accelerated playback, then Totem or another libavcodec based player will do the job nicely. Compared to the other applications in Ubuntu, I would put Totem/VLC up there with Firefox in terms of being a jewel of the OS. Like Firefox they may not be OS-exclusive applications that can be used to drive users towards Ubuntu, but they help solidify Ubuntu by giving it the ability to do a common task just as well as (or better than) any other operating system. At least until Windows 7 hits the shelves, no one has a better default media player.
Final Verdict: Meets My Needs
Applications: CD Burning/Image Editing
Windows Default: Drag & Drop
What I use: Nero
Ubuntu Default: Drag & Drop / Brasero
One of my minor annoyances with Mac OS X and Windows is that their default disc burning abilities are insubstantial. Both offer drag-and-drop file burning, audio CD burning through their respective audio suites, and in Mac OS X's case it offers ISO burning too, but that's it. As a long-time Nero user, I would rather have the finer level of control a disc authoring suit such as Nero or Toast offer when it comes to building and burning discs.
As it turns out, this is something that Ubuntu gets right. Not only does it include drag-and-drop burning abilities like the other OSes, but it includes a disc authoring suit: Brasero. In a nutshell, Brasero is a clone of Nero Burning ROM, much like Rhythmbox is a clone of iTunes. It sports similar UI elements as Nero, including the handy disc capacity meter towards the bottom of the window. As such, for anyone used to Nero it's an easy transition to make.
Where Nero users will feel left out is that it's only a clone of Nero Burning ROM, and little else. It can burn audio CDs, data discs, ISOs, and copy whole discs, but that's it. It doesn't have any audio/video mastering abilities like Nero does. In fact there's nothing on the default Ubuntu install like this – Windows Movie Maker and iMovie have no direct counterpart on Ubuntu. This makes Ubuntu more capable than Windows or Mac OS X for data CDs, but underpowered for most kinds of media disc creation. Depending on how you use Ubuntu, this may or may not be an issue.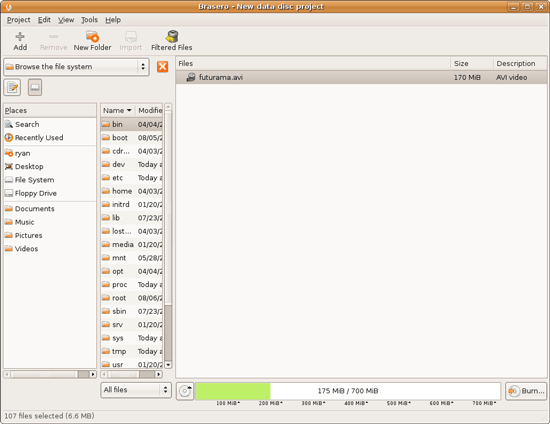 Meanwhile for users accustomed to drag-and-drop burning, you'll find the drag-and-drop CD/DVD Creator satisfactory. As CD/DVD Creator doesn't support packet writing, you're limited to traditional building & burning via the GUI. CD/DVD Creator doesn't support writing multisession discs either, so it's entirely a write-once operation. Whether this is a problem or not depends on if you use packet writing – a quick check around here didn't turn up anyone that uses it, so I'm not sure there are all that many people that are going to miss it.
For power users there are other options. The Ubuntu repositories contain other disc authoring suites, and a cut-down version of Nero is available too. We haven't had a chance to check out either of these, but it looks like neither option provides a solid audio/video authoring package. Anyone needing such abilities may need to look elsewhere. For daily use however, it has everything I need.
Final Verdict: Meets My Needs
Windows Default: Paint
What I use: Adobe Photoshop CS3
Ubuntu Default: GIMP
In doing research for this section of our look at Linux, one thing became abundantly clear: Image editors on Linux have the potential to be a holy war. For Windows and Mac OS X the gold standard for image editing programs is Adobe Photoshop, but as Adobe does not offer it for Linux it's up to the Linux community to fend for itself. In doing so they came up with the GNU Image Manipulation Program (GIMP) which strives to match Photoshop's abilities on *nix for free. What results is an interesting situation.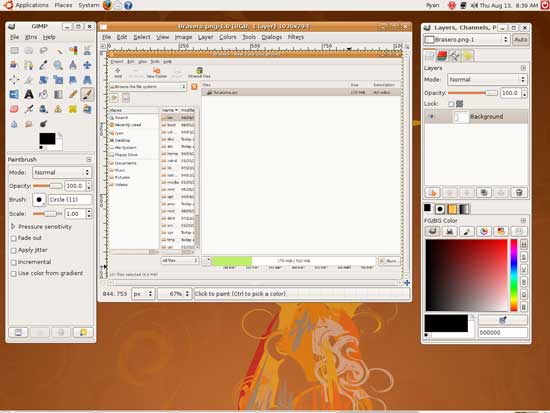 In spite of the fact that I can barely make sense of Photoshop, it's clear that GIMP is not just a Photoshop clone, for better or for worse. For someone looking for what would amount to a Linux version of Photoshop, they're clearly going to be disappointed, as GIMP is not Photoshop or even Photoshop-lite. It's an advanced image editor that is in a class of its own.
As far as default programs are concerned, GIMP is clearly miles and miles ahead of Windows' Paint, and Mac OS X's complete lack of a freestyle image editor (iPhoto being the next-closest thing). Even if it's not up to Photoshop's level of abilities, it's a very capable image editor that comes with Ubuntu, rather than needing to be a separate program download on Windows or Mac OS X. This leaves me in a somewhat odd position.
Paint is anything but powerful, but it's also simple. GIMP and Photoshop have at least one thing in common: they're both capable of being complex beasts. As such I'm not convinced that it's a good thing that GIMP is the default image editor on Ubuntu. For a beginner, it may be too powerful for its own good. For those reasons while it's the most powerful default image editor when compared to Windows or Mac OS X, I'm not sure it's the "best" if we're to consider what fits user needs.
At any rate, when it comes to my own uses, I've previously mentioned that I'm not particularly competent than Photoshop. For image preparation for our articles it does the job nicely, while it's clearly overkill for the task. For what little I do with Photoshop, GIMP works quite well, giving it the distinction of being the only default image editor that does what I need. For these reasons while it's not a perfect replacement for Photoshop overall, it more than meets my needs for day-to-day use.
Final Verdict: Meets My Needs
Applications: Office Suite
Windows Default: None
What I use: Office 2007
Ubuntu Default: OpenOffice
Another thing that sets Ubuntu apart from Windows and Mac OS X is that the default install (and again, it fits on a CD) includes an office suite in the form of OpenOffice 2.4. Unfortunately OpenOffice 2.x is rather awful, which makes for a bad first impression. Admittedly this is the age of Ubuntu 8.04 showing since OpenOffice 3 wasn't ready for nearly a year, but nevertheless I really, really wish that Ubuntu would inform new users about OpenOffice 3, stable application platform policies be damned.
This is going to be one of the few cases where I'm going to skip right past the Ubuntu default and move to something else. If you install Hardy, don't waste your time on OpenOffice 2.4, go straight for OpenOffice 3.1.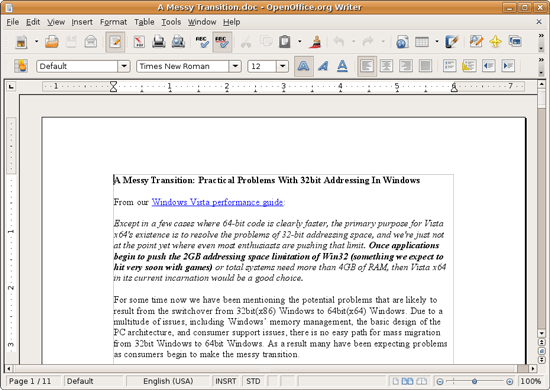 With that out of the way, OpenOffice 3.1 is the latest version in the long line of the OpenOffice series. As has been the case for a number of years now, OpenOffice is the largest competitor for Microsoft Office, with Apple's iWork and as of late, Google Docs as the other mainstream competitors in the office suite business. Like Firefox it's an important cross-platform open source application, and is available on just about everything that has an operating system. Furthermore since Microsoft Office is not available for Linux like it is Windows or Mac OS X, it is the de-facto office suite for Linux.
In spite of its de-facto status, OpenOffice doesn't have a particularly glorious history. Prior versions have a reputation for being slow and development has been equally glacial at times (e.g. it wasn't until 3.0 that there was a native Mac OS X version). Furthermore as Microsoft Office's loyal opposition, the OpenOffice developers have had to play catch-up to Microsoft whenever they do something new – such as introducing the Office Open XML format – which has limited the compatibility of OpenOffice and hence its suitability of a replacement.
With OpenOffice 3.x a lot of that has changed. Right off the bat one of the biggest changes has been much better support for Microsoft's formats, with better reading and writing ability of the "old" 2003 binary formats, and the ability to read (but not write) the new OOXML format. In our informal testing we had no problem opening up a number of our old DOC/XLS and newer DOCX/XLSX files, with all of them presenting themselves correctly. We do have some 3rd party Excel files though (Intel's Monte Carlo simulation) that would not open correctly under OpenOffice.
Like Microsoft Office, the core applications of OpenOffice include a word processor (Writer), a spreadsheet (Calc), and a presentation program (Impress). Backing that up are database program (Base), an equation editor (Math), and unique to OpenOffice a vector graphics editor (Draw). OpenOffice does not include an email client, in the case of Ubuntu that task is covered by Evolution.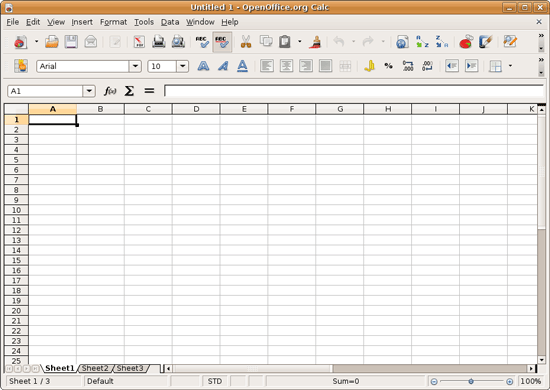 From a features standpoint OpenOffice fits somewhere between Microsoft Office 2003 and 2007, this being a testament to the developers of OpenOffice given that it's free and Microsoft Office is bloated. For what OpenOffice can't do, I suspect you would need to be a hardcore Microsoft Office user to truly appreciate the difference. At this point OpenOffice is well beyond the feature set most home users would need, or even many corporate users.
From a visual standpoint OpenOffice isn't quite as advanced however. Visually it's still largely a clone of Microsoft Office 2000 or so. By no means do visuals make an office suite when it comes to word processing or spreadsheets, but this means that certain conventions that have gone out of style for Windows programs are still in use for OpenOffice. Users Microsoft Office 2007's Ribbon UI will be particularly hard-pressed to move back down.
The lack of visual splendor does put OpenOffice at a notable disadvantage when it comes to Impress though. Where presentations often have a great deal of focus on such matters, OpenOffice doesn't have the library of art and templates to match PowerPoint. It's not by any means bad, but if I had a Pointy Haired Boss that loved eye candy, Impress would probably not impress them.
Otherwise Writer and Calc are competent versions of their Microsoft Office counterparts. There are no specific surprises here as both do what they're supposed to, but nothing more. This article was written almost entirely using Write with no outstanding issues to report. It may not sound impressive, but Microsoft Office is a hard act to follow. Doing so for free when Microsoft Office is $150 or more is even more impressive. It's something where you'll never forget that you're using a clone of Microsoft Office, but for the price tag you can excuse the lack of flair.
On a note about flair, like Firefox the experience is improved if some of Microsoft's font sets are installed, particularly if you have documents written using them or are accustomed to writing in them. These font sets do not include Cambria, so Word 2007 documents are still going to look off.
Overall, I must admit that I generally did not use OpenOffice for my day-to-day use – the bulk of my use of it was for writing nearly this whole article. Outside of the lack of the ability to write OOXML files I didn't run in to any specific problems, but I am accustomed to Microsoft Office's Ribbon UI. Since I already have a copy of Microsoft Office there was nothing stopping me from using it beyond what Wine would do. As Wine is able to run Microsoft Office 2007 well enough that it met my needs, I didn't have any strong reason to stick with OpenOffice besides experimentation and research for this article. If I didn't have a copy of Microsoft Office 2007 (such as only having 2003, for example) would have stuck with OpenOffice, but as I did I was not prepared to take the efficiency hit in moving away from the Ribbon UI. This says more about the user than the program, but it's also a subtle hint that OpenOffice could benefit from moving in the same direction.
Final Verdict: Meets My Needs, But I Didn't Use It
Applications: Everything Else
Sometimes there is an advantage to not being a large, profit-generating target. If you are Microsoft or Apple, there are some things you just can't take a risk on doing, the consequences of it backfiring are too great. In this case you would never see either of those operating systems include a BitTorrent client. While BitTorrent is legal, it can be used for many illegal things, making it an enemy of groups like the RIAA and MPAA – both of which Apple and Microsoft need to get along with for business reasons (imagine Windows without a DVD player) and because both have deep pockets should a fight erupt.
Canonical (the company backing Ubuntu) is not a large, profit-generating target and as a result they can get away with more here. We've already talked about legality issues encompassing codecs, but BitTorrent is another area where their size lets them get away with more. Ubuntu includes Transmission, a full-featured BitTorrent client, making it wholly unique (at least when compared to Windows/Mac OS X) for doing so. As a regular BitTorrent user, this is a most welcome type of application to include.
With there being so many BitTorrent clients I'm not going to get in-depth with features here other than to say that Transmission is a full-featured BitTorrent client. Instead the fact that it's included at all is a big deal. Although it's going to be a slight exaggeration, I would put the inclusion of a BitTorrent client up there with a web browser, an email client, or a media player. I consider BitTorrent an essential function, so a proper client is something that ideally would be included with every operating system. It's that important.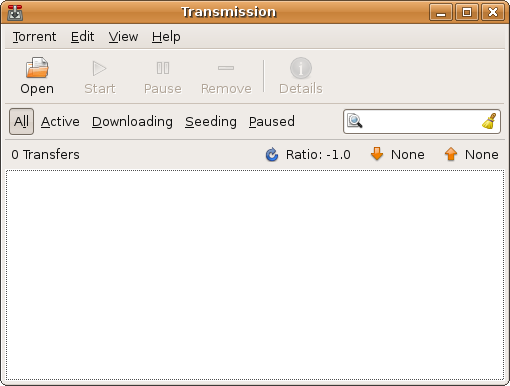 There is one thing I'd like to add about Transmission in particular though. In my time using it, I'm not convinced that other BitTorrent clients are properly respecting it. I've noticed that some other clients appear to be ignoring or blocking it, and while it doesn't appear to be opposed by a large number of clients, it's enough that in my completely unscientific testing that this looks to make Transmission slightly slower compared to something like Azureus. Wikipedia notes that a version released over 2 years ago was commonly blocked for not being completely compliant with the BitTorrent specification, but I don't know if this is related or not.
Moving on, there's one other thing in Ubuntu that caught my eye, and that's the inclusion of a Remote Desktop Protocol (RDP) client, going under the name of Terminal Services Client. Not to be confused with VNC, the open source remote desktop system commonly used on *nix systems, Remote Desktop Protocol is Microsoft's proprietary remote desktop protocol and associated applications. While I had expected Ubuntu to include a VNC client, I had not been expecting a RDP client.

As I have a Windows Home Server for file storage and backing up my Windows machines, I need a RDP client to administrate it and the rest of my Windows machines. By "playing nice" and including a RDP client in spite of the fact that the protocol itself is proprietary and Ubuntu does not use RDP itself, this made Ubuntu much more useful for me straight out of the box. Among other things, with it I was able to immediately connect to my server and diagnose why I was having so much trouble connecting to my SMB shares, something which I'll explain in greater detail in a moment.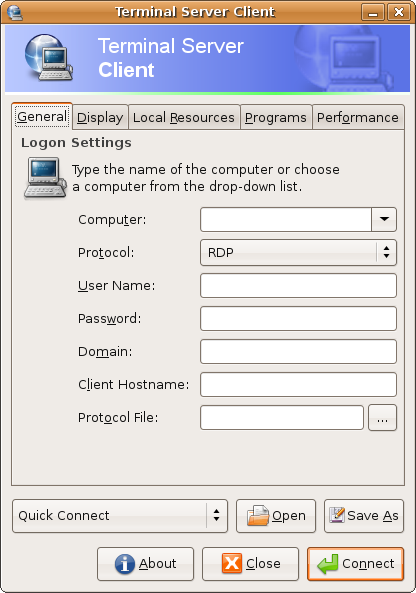 Really the only downside to this is that it's not as well built of a client as Microsoft's own Windows client is, which is to be expected. Even on a gigabit LAN Terminal Services Client lags a bit compared to the real thing, but then again so does Microsoft's official RDP client for the Mac. Ubuntu seems to be at a bit of a disadvantage here since it seems that Windows machines have an inherent advantage in being RDP clients. Nevertheless it's fully usable, it's just a bit slower.
Things That Went Terribly, Terribly Wrong
One concern I've had for some time when writing this article is that it runs the risk of coming off as too negative. I don't want to knock Ubuntu just for being different, but at the same time I'm not going to temper my expectations much as far as usability, stability, and security are concerned. If something went wrong, then I intend to mention it, as these are things that can hopefully be resolved in a future version of Ubuntu.
This section is reserved for those things that went terribly, terribly wrong. Things so wrong that it made me give up on using Ubuntu for the rest of the day and go back to Windows. This isn't intended to be a list of all the problems (or even just the big problems) I encountered using Ubuntu, but rather the most severe.
We'll start with mounting file servers. I have a Windows Home Server box that I use to store my common files, along with hosting backups of my Macs and PCs. I needed to be able to access the SMB shares on that server, which immediately puts Linux at a bit of a disadvantage since it's yet another non-native Microsoft protocol that Linux has to deal with, with protocol details that were largely reverse engineered. My Macs have no issue with this, so I was not expecting any real problems here, other than that the network throughput would likely be lower than from Windows.
For whatever reason, Ubuntu cannot see the shares on my WHS box, which is not a big deal since neither do my Macs. What went wrong however is that manually mounting these shares is far harder than it needs to be. Again using the Mac as a comparison, mounting shares is as easy as telling Finder to connect to a SMB server, and supplying credentials, at which point it gives you a list of shares to mount.

Ubuntu, as it turns out, is not capable of mounting a share based on just the server name and credentials. It requires the share name along with the above information , at which point it will mount that share. Browsing shares based on just a user name and password is right out. Worse yet, if you don't know this and attempt to do it Mac-style, you'll get one of the most cryptic error messages I have ever seen: "Can't display location "smb://<removed>/", No application is registered as handling this file." This tells you nothing about what the problem actually is. It's poor design from a usability standpoint, and even worse error handling.
Unfortunately the story doesn't end here. Ideally all applications would work as well with files on a network share as they would a local drive, but that's not always the case – often the problem is that it's harder to browse for a network shared file than a local file from inside an application. For this reason I have all of my common shares mapped as drives on Windows (this also saves effort on logging in) and Mac OS X takes this even further and immediately maps all mounted shares as drives. So I wanted to do the same for Ubuntu, and have my common shares automount as drives.
Nautilus, which transparently accesses SMB shares, is of no help here, because by transparently accessing SMB shares it doesn't mount them in a standard way. The mount point it uses is inside of a hidden directory (.gvfs) that some applications will ignore. The ramifications of this being that most applications that are not a GTK application cannot see shares mounted by Nautilus, because they can't see the mounted share that GTK tells its applications about, nor can they see the hidden mount point. The chief concern in my case was anything running under Wine, along with VLC.
The solution is not for the faint of heart. Highlights include additional software installations, manually backing up files, and a boatload of archaic terminal commands – and that's just if everything goes right the first time. I love the terminal but this is ridiculous. Once it's finished and set up correctly it gets the job done, but it's an unjust amount of effort for something that can be accomplished in a matter of seconds on Windows or Mac OS X. This was easily the lowest point I reached while using Ubuntu.
The other thing I am going to throw in this category is mounting ISO images. I keep ISOs of all of my software for easy access. Interestingly enough, Ubuntu has the file system driver necessary to mount ISOs, but not a GUI application to do this. While it would be nice to have all of that built-in (ala Mac OS X) that's not the flaw here – I'm perfectly content downloading a utility like I do for Windows (Daemon Tools). The flaw here was the Ubuntu GUI application for this, Gmount-ISO, can't mount ISOs off of a SMB share. Worse yet, it doesn't tell you this either.
The first time around, the only solution I was able to find was an another archaic CLI command that involved running the mount command by hand, in the style of "mount file.iso /cdrom -t iso9660 -o loop". This was a terrible solution.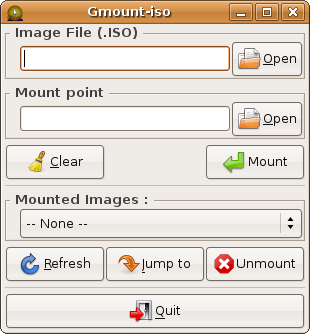 It wasn't until some time later that I finally found a better solution. An application that wasn't in the Ubuntu repository, AcetoneISO, can properly mount files off of SMB shares. Better yet it's a bit closer to Daemon Tools functionality, since it can mount BIN/CUE, NRG (Nero Image), and MDF images.
I throw this in "terribly, terribly wrong" column because the solution was completely non-obvious. If you search for "Ubuntu Hardy mount iso" or something similar, AcetoneISO is nowhere near the top of the results, and the Ubuntu package repository is of no help. What's in the repository is the aforementioned useless Gmount-ISO, and what's at the top of Google's results are Gmount-ISO and instructions to mount the image via CLI. It's a success story in the end, but it was uncomfortably painful getting there.
If there's any consolation in these matters, it's that these were the only two issues that made me outright stop using Ubuntu, and go back to Windows for the day. Any other problems I had were significantly less severe than this.
Things That Went Right
On the flip side of the things that went wrong, we have the things that went right. Most of the Ubuntu experience went right and has been covered previously, so this is going to be a catch-all for other things about Ubuntu that impressed me, but don't necessarily fit anywhere else.
One of the nicer features of Mac OS X that you don't see mentioned very much is the Keychain, a credential management framework for applications to use to securely store passwords and the like. Such systems aren't rare – even Windows has something similar through its Credentials Manager – but Mac OS X is unique in that its implementation at least gets used, at times.
I had not been expecting something similar in Ubuntu, so it caught my eye when a Mac OS-like password box came up when I was logging in to my file server. As it turns out Ubuntu has similar functionality through the Passwords and Encryption Keys application. And since Ubuntu heavily uses the GNOME desktop environment that this application is a part of, a number of its applications are built against the keyring and use it.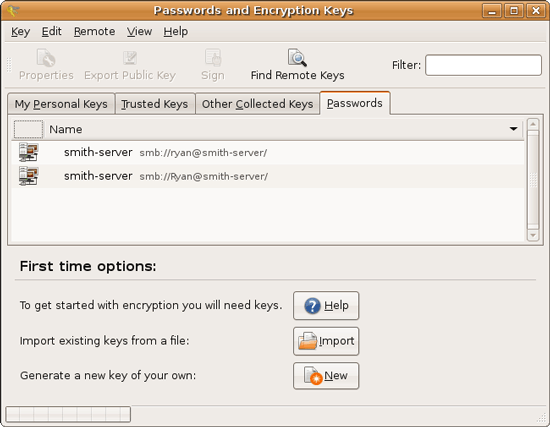 It's not quite as tightly woven as Keychain is under Mac OS X, but it's better utilized than Windows and used enough that it makes sense to visit the keyring application. The biggest holdout with a stock install is Firefox, which uses its own password manager regardless of what platform it's on.
Another thing that caught my eye was Ubuntu's archive manager, called File Roller here. As we've lamented many, many times before, Windows' archive management abilities are terrible. Files are slow to compress, files are slow to uncompress, and just supporting Zip files isn't quite enough. Mac OS X does a bit better by being faster, but it also has absolutely no support for browsing Zip archives, it just packs and unpacks them. Most power users I know will have something like WinRAR or BetterZip installed to get a proper archive browser and wider archive support.
File Roller is a complete archive manager, and it supports slightly more exotic archive formats like RAR along with the customary Zip and *nix standard of GZip. The biggest knock against it when it comes to archive formats is that it can read more than it can write, RAR again being the example here.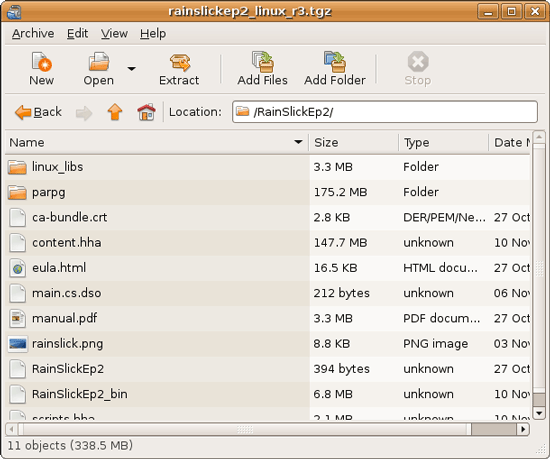 This also brings up an interesting quirk with archives under *nix that you don't see under Windows. The Zip format specifies it as being both a container for multiple files and a compressor for those files. GZip on the other hand can only compress a single file – so when it comes time to compress multiple files, they must first be packed in a compressionless tarball (TAR), and then the tarball is compressed, resulting in .tar.gz. The quirk is that the Zip format compresses each file separately, while .tar.gz by its very nature compresses all the files together at once; this is commonly known as solid archiving.
Depending on the files being compressed, solid archives can have significant space advantages over individually compressed files by taking advantage of redundancy between the files themselves, and not just the redundancy in individual files. This is also why WinRAR is so common on Windows machines, since the RAR format supports solid and individual archiving.
Now the downside to solid archiving is that it takes longer to pull a file out of a solid archive than an individually compressed archive, since everything ahead of the file must be decompressed first in order to retrieve the data needed to recreate the desired file. So solid archiving isn't necessarily the best way to go.
Ultimately with the wider support for archive formats under Ubuntu, in some situations it can achieve much better compression ratios than what can be done under Windows. Windows isn't entirely helpless since when it comes to installers they can use MSI installers (which use solid compression), but as far as plain archives are concerned the only built-in option is individual archiving. It's a small benefit that can pay out nicely from time to time for Ubuntu.
NEXT PAGE